Fall has always been my favorite season.
Even when I was younger, I longed for sweater weather. I love scarves, I love sweaters, I love bon fires and s'mores and jeans. I even love hay rides, though I don't get to go on them often anymore. That's what happens when you have a husband who has ALL THE ALLERGIES.
M proposed to me in October. Our engagement photos were taken in November.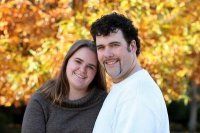 Even when we were choosing our wedding date, I insisted on a fall wedding. Sure, we got married on December 1, but that's still technically fall. Seriously, we were between December and March. December was a no brainer for us me.
And while I love fall, I won't give up my flip flops just yet. Okay, I won't give them up unless someone pries them from my cold feet. Because yes, I've been known to wear them in the snow.