This may be an incredibly boring post for some of you, but I figure if it's on the blog, it has to stay true. Right?
Right.
So welcome to my laundry room.
That's the door to our garage, so this room also serves as a kind of mud room for us.
The chair off to the left hand side is a spare chair from our very much mismatched dining set. For the longest time, it sat just off to the side of our kitchen and served as a catch all. It's serving kind of the same purpose in the laundry room, but right now my purse is sitting on it. You know, away from little hands that want to pull all the things out of it.
Above the laundry sorter is our family calendar/message center. We can put six weeks up at a time on wipe off strips, so that's what we do. Right now this also has a few phone numbers on it, as well as my instructions for washing the cloth diapers. Those have been there since right before my first surgery, because I was afraid I wasn't going to be able to wash them and wanted my mom to know what process I use.
The laundry sorter mostly has the boys' clothes in it. It has a lot of bibs in it, because as I've said before, we go through a lot of bibs in a day. It's a great little chore for Butter to do to help out. He will run the bibs into the laundry room and put it in whichever section we tell him.
I've learned something about myself and laundry. I hate folding it, I hate hanging it, and I hate ironing it.
This is the washer/dryer area/right side of the laundry room.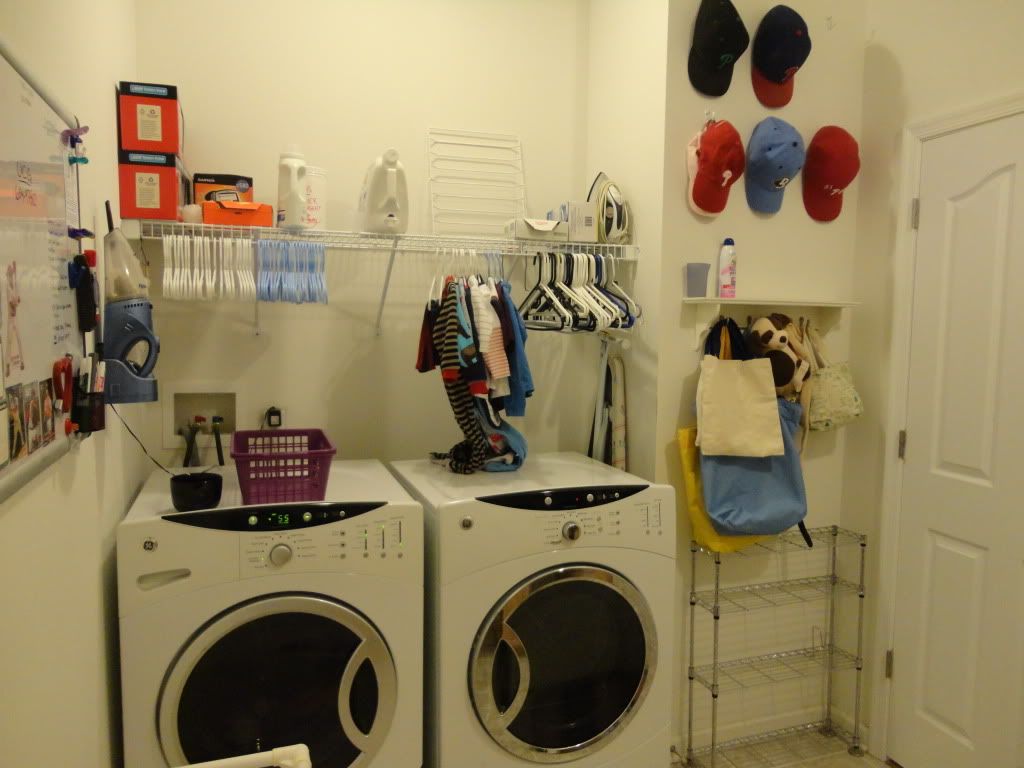 See all those hangers? If I don't hang something up immediately, chances are it isn't getting done by me. We're nerdy enough that we color code the boys' clothes, too. The white hangers are for LB's stuff. The blue ones are for Butter's. The mismatched ones to the left are for our clothes. See that basket on top of the washer? I've put it there in hopes that, when I'm not the one doing laundry, it will be a place to put stuff that's cleaned out of pockets/off of shirts. [For example: Pens. Just saying.] The black coffee mug is for loose change. The hooks above that little shelf were M's idea for all of our hats. The blue and yellow bags are for the boys' swimming stuff. It's really convenient to keep those where they are, because when their stuff gets washed, it goes right back into the bag for the next week. The smaller bag under the shelf has all of our gloves in it. I'm hoping that makes it easier to keep track of them.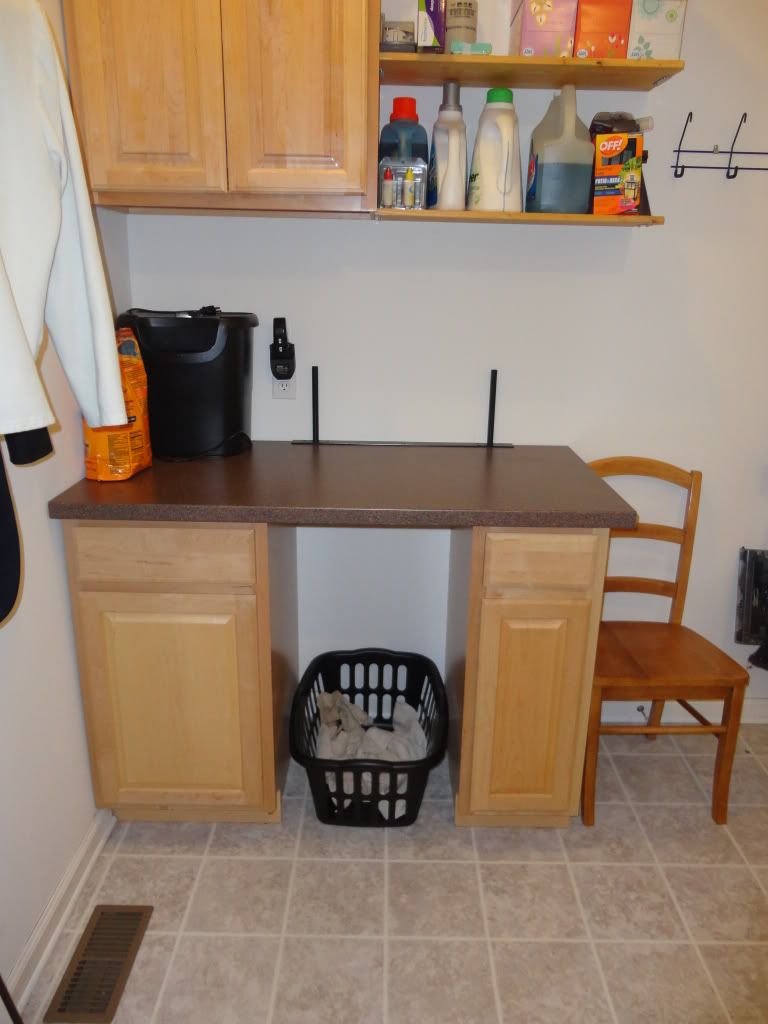 This is one of my more interesting ideas. We had extra cabinets when we built the house. I asked M to put them in the laundry room with a counter top purchased at Ikea. It serves as a flat surface for me to put everything that is folded on before I put the laundry away. I like to keep my rags and towels separate from the clothes, so they're in the basket. And yes, that is our shredder on top of the counter, along with the massive amount of baking soda I keep on hand to neutralize odors in the diaper pail, and a random piece from a shelf. I had no idea what to do with it, nor any idea why it's in the laundry room. Question for M, I guess.
I cleaned the laundry room to take pictures and write this post. Here's hoping this makes me keep it looking like this.
If you made it this far and are interested, what should I post about next?