I'm a huge dork. I realize this. My husband realizes this. Thankfully, we usually get nerdy about the same TV shows.
With shows all over starting again, I thought this was a good time to see what everyone is watching this Fall. Or, as we call it in this house now, what we can set the DVR to record, then fight have heated discussions about watching when we have a few hours to ourselves.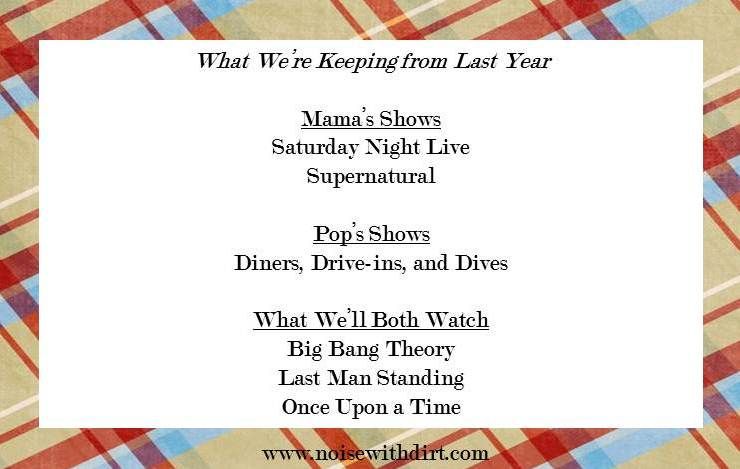 Saturday Night Live is an obvious one for me. I have a miniscule obsession with Seth Meyers. I've been watching Supernatural since it started. [And no, I still can't get over Dean from the Gilmore Girls saying Dean to someone else. It's too weird for me.] M loves Triple D. As for the stuff we're both watching, The Big Bang Theory is one of the ones I inspired M to watch, Last Man Standing is the one he wanted to watch and I fell in love with, and Once Upon a Time is something we decided to try last year and both agree on.
While I was researching/writing this post, I looked to see if The Finder had been renewed. It hasn't, nor has Alcatraz. Those were two of our favorite shows from last season. I'm really sad about The Finder, because when I heard about Michael Clarke Duncan's passing, I wondered what they were going to do about Leo on that show.
I have to say, we watched the pilot of Go On last night. Remember, it was on during the Olympics? I didn't know how I was going to feel about it until we watched it. I'm definitely looking forward to it now. Revolution is something I'm not sure M is sold on, but I definitely want to see it. In fact, I learned today that XFINITY subscribers can watch the first episode On Demand. I may do that to see if it's even worth recording. And see The Vampire Diaries up there? I started watching it about a month ago on Netflix. I'm currently trying to watch season 3 so I'm caught up for the new season on October 11.
Maybe I should have titled this one, "What I'll Watch On Demand" because face it, M isn't watching Dance Moms. Or Smash, for that matter. I actually watched the entire first season of Smash On Demand while I was knitting a baby blanket/had insomnia. As for Bunheads, M thinks it's cute, but it's not really his thing.
So what are you looking forward to this Fall? What are some things that are absolute must watch for you?