I learned something about my child while we were at Disney World last week.
I mean, it was something I kind of knew about him. After all, I once made the mistake of downloading a soundtrack he wanted to listen to 24/7 for a solid month.
I mean, it's fine. I'm happy he's expanding his interests, but I just didn't realize it was going to take hold this young.
Butter loves pirates.
Yes, he asked for a pirate party for his birthday this year. It was kind of cool to see, too. There were a lot of Jake touches because that's kid friendly. The only things that weren't Disney inspired were the pinata and the flags on the cupcakes. I figured he didn't mind because they seemed to go along with the theme, enough that he was all, "Okay, Mom."
But no, he genuinely loves pirates.
So much that he had his face painted like a pirate when we were at the Animal Kingdom.
We rode Pirates of the Caribbean, and when left, we caught a show that taught about being pirates hosted by Captain Jack Sparrow.  And then we heard about The Pirates League. It seemed like a no brainer. But there was a problem in that the reservations were difficult to get. But when M called to try to get one, the lady on the other end of the phone told him about Pirate Adventure. This is from the Grand Floridian's web site.
Children (ages 4-12 years old only) wear pirate bandanas and follow clues to search Bay Lake and the Seven Seas Lagoon for buried treasure. Following these clues and the Pirate's trail, they sail to many exotic "ports of call" (Resort Marinas) to collect treasure. During the voyage, the children enjoy a reading of "The Legend of Gasparilla" (a real Florida Pirate). At the final port of call, children will have a snack (such as pretzels, goldfish crackers) and a drink (such as water or drink box) and split up the "buried treasure".
He had the best time.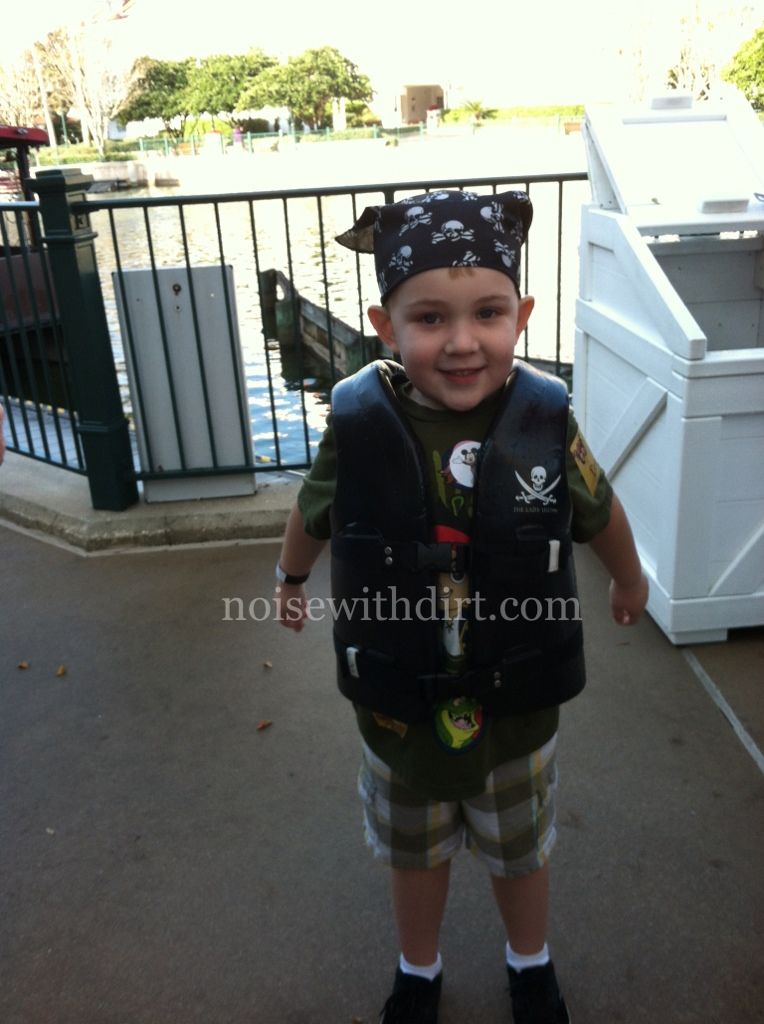 After that, we headed over to Hollywood Studios for lunch with Jake.
I think . . . I think this an obsession I can live with.