It's true. I haven't seen this movie.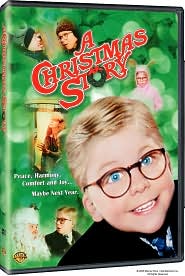 Why? you ask.
Because I don't want to do it. It's as simple as that.
I know I'm hard headed and stubborn and a lot of other words, but I just don't want to see it. I get especially cranky when people tell me I have to see it. I do not. It's my prerogative to see it or not. A few Christmases ago, my friend Amy thought she'd be a smarty pants and bought me this [though looking at it, I'm not sure that's the exact one she bought]:
I think after that I agreed to watch the movie, only if there were copious amounts of wine included. No one has delivered on that, yet.
The best part is that I can quote it, because every one in my life can. My husband tells me often I'm "not allowed" to quote it if I haven't seen it. So does that mean I can't quote The Godfather because I haven't seen it? Pfffft. Whatever, dude.
Part of my 101 in 1001 is to see this movie. Because people tell me I must. You better believe if I'm not impressed, they're going to know it.