I started this post ages ago.
In keeping with my 'I'm looking for ways to save money' theme, I thought I'd post what we normally do for marinara sauce in our house.
It's ridiculously easy.
Please note that this recipe is heavily influenced by Giada De Laurentiis, but I haven't followed it to the letter since the first time I made it. M follows the list of ingredients and then gets fancy from there.
What you need:
extra virgin olive oil
onions
garlic cloves
celery
carrots
salt [sea or kosher]
freshly ground black pepper
canned tomatoes
dried bay leaves
Heat the oil over medium high heat.
This is where I always mess up. I put the onions in first. M swears by putting the carrots in first, as they take the longest to cook. I should have done that this past time, but I didn't. I'm still kicking myself.
S0 anyway. I do onions, carrots, celery, garlic. Get those all nice and soft. It takes around ten minutes.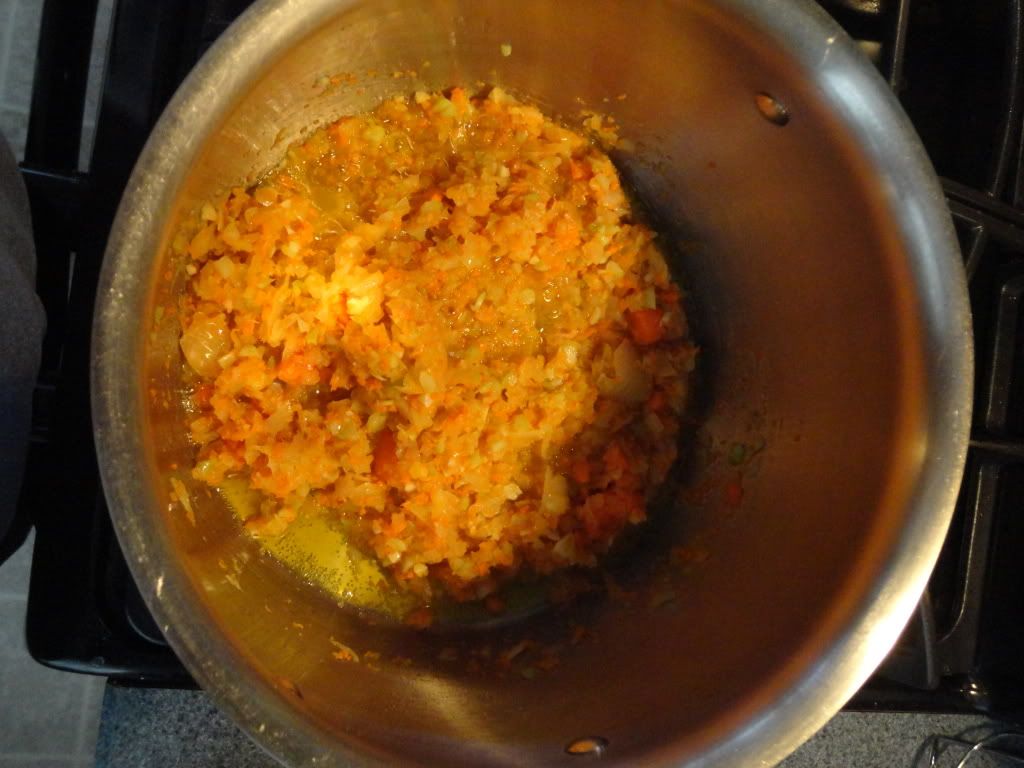 Then put the canned tomatoes and bay leaves in the pot and let it simmer for about an hour, uncovered.
The recipe calls for crushed tomatoes, but I used what we had on hand, which was a can of crushed and a couple of cans of whole, peeled tomatoes. Not a big deal. After everything came to temperature, I used a stick blender to get the sauce to a smooth consistency.
Do not burn the sauce. It will make your husband ask you how much tomato paste you put in it. Not that I would know this from experience or anything. Ahem.
After the sauce cools, we put a couple of cups in gallon size freezer bags, lay them on cookie sheets, and freeze them in our chest freezer.  That was M's idea, and I think it's rather brilliant. We do the same thing with left over soups. It ensures more space in the freezer. I haven't taken a picture of that, but I will. If you don't have a chest freezer and can afford to have a bit of bulk in said freezer for a few hours, find something with the most flat surface area you can and lay the bags down in/on it. Works like a charm.